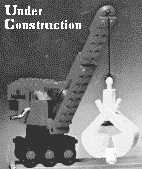 Will it ever be done?
From Under Construction, or "This icon says more about me than it does about my web page".
I know in September 2023 it's a little lame to claim a website is under construction but I am rapidly expanding this autobiographical page with memories of my past and it's currently more a stream of consciousness than something entirely readable. Even when I am done with my first pass, I plan to continually be adding more memories as they occur to me.
How someone who hates to write came to write of his own free will
Nebraska, Virginia, and more Virginia
Arkansas, Maryland, Korea (for a summer), and Rome (New York)
Middle school and high school in Dewitt, New York
Life along the Charles River in Cambridge, Massachusetts
Silicon Valley startup life at General Magic, Open Market, Ariba.
Jennifer and my wedding in Ohio.
Research at the Farm
Android
Stories about my parents, grandparents, ...